WMHS CM MODELS FOR SALE
WILDWING MODEL HORSE STABLES
Suzanne L. McAllister
Wildwing@mediaone.net


All models come with 3-generation (or better) pedigrees upon request if named. All models have seams & molding marks sanded & repaired. Models are guaranteed; if not satisfied, contact me within 5 days for a full refund (minues all shipping costs) upon return of model (guarantee void if model is shown in the 5 day period) provided you ship the model back insured for
the full amount of purchase. Postage not included in prices. See my repaint pricelist also; includes a link to photos of my customs. Trades are always welcome; see want list.
All models customized by Suzanne L. McAllister/WMHS
I ask that you please keep "SLM" prefix in name even if it is changed
Click on thumbnail photo to see larger image.
Updated 5-13-00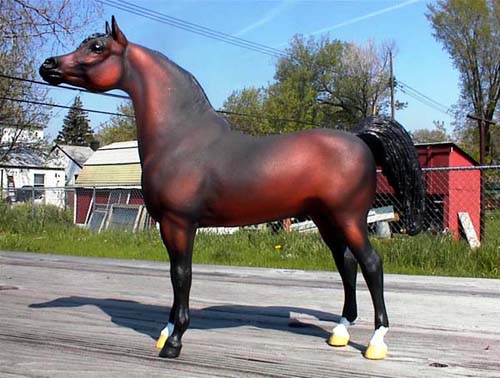 SLM Unnamed - PAS customized in airbrush to mahogany bay Arabian stallion. Forelock resculpted, tail lifted and resculpted. LSQ. Unshown, digital photos in halter, EP, ET, WP, WT, and Arab Costume. SOLD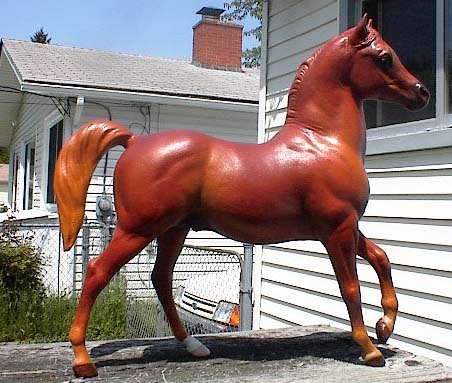 SLM Unnamed - CAS customized in airbrush to a deep red flaxen chestnut Arabian or Welara gelding. Forelock resculpted, tail lifted and smoothed. LSQ. Unshown, digital photos only. SOLD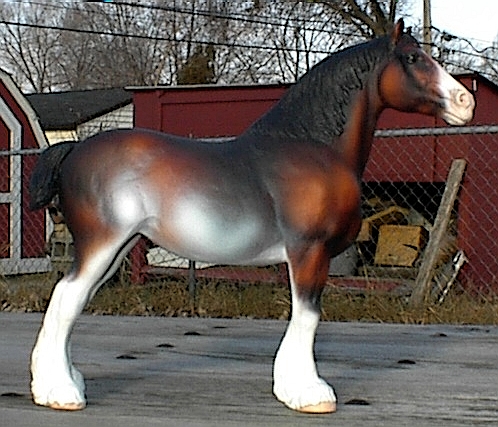 SLM Dakota's Royal Rose - Clydes Mare repainted in airbrush to a dark bay sabino Clydesdale mare. LSQ. PS placed, digital photos only. $75.00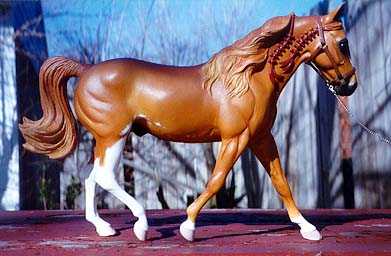 SLM Rambling Red Lad--IMC repainted in oils to a chestnut sabino MFT gelding. LS & PS placed. Regular & digital photos. $140.00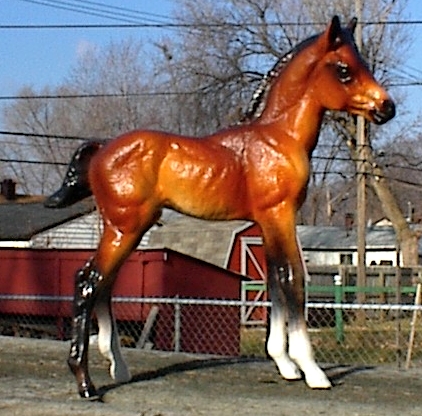 SLM Banjo's Ace--Classic Mustang foal repainted in airbrush to a bay Quarter Horse filly. PS placed w/digital photos, LSQ. Digital photos only. SOLD
---
I also have a LS-placed Rejoice for sale, $100
mint, not in box
please contact me if interested.

---
Want List for Trades ONLY
(please note at this time I can't afford to buy)
Please be sure to mention what you would like to trade FOR when you write!
If you have any of the models or tack listed below, I am interested in trading my completed customs (listed above) for them. But if you have others, please inquire; I may very well be interested! Those underlined are ones I am particularly searching for. All molds listed below may be in any color/condition (these are for customizing) but broken must include ALL pieces. I would prefer "slightly damaged" models rather than mint.
Models:
BREYER: TRAD: Lady Phase (ANY color/condition), Marabella, Old Indian Pony, Sebastian, Embajador XI, Stud Spider, Sham, Cigar, Halla, Rejoice, Huckleberry Bey. CLASSIC: All TBs, all Stock Performance Series, both Mustang foals, Arab family, Mesteno's Mother, Rojo. LBs: Morgan and Saddlebred only. SMs: New '98 orold plastic ONLY of any mold.
HARTLAND: Many except Tinymites; inquire.
STONE HORSES: All Drafters, jumping TB, Ideal Quarter Horse.
BLUE RIBBON STABLES (Trad size): dapple gray Spanish Barb (mint only).
NORTHLIGHT: Most, in repaintable condition.
RESINS: All unpainted. Will trade custom orders for these!
Tack Wanted:(TRADE ONLY)
TRAD: Draft harness, fine gaited harness, Throughbred racing set.
CLASSIC: Fancy silver & black Western halter.
LITTLE BIT: Fine gaited harness, draft harness, huntseat and parkseat sets.


I would also be interested in "other performance" tack, such as a Civil War-era cavalry outfit, Classic Indian costume, circus costume, Trad. Arabian costume, etc. Please write with what you have to offer.
Back to Top
---

Back to Photo Gallery
On to Model Horse Links

Web design by